Do You Need A Smartphone For Fitbit? Get The Answer Here 
If you're looking to buy Fitbit wearable accessories, you might want to use the device independently without any smartphone. Here's the answer to the question 'Do You Need A Smartphone For Fitbit?':
You need a smartphone or a tablet to be able to view data recorded by Fitbit fitness trackers. You must have a smartphone to sync your Fitbit device data with the Fitbit app. Alternatively, you can also use a PC to connect your Fitbit device via a Fitbit dongle.
As opposed to your usual arm candy, Fitbit does require a compatible device to a certain extent. I'm here to tell you what that extent is.
In this article, I will explain why you need a smartphone for Fitbit, smartphone requirements for Fitbit connectivity, and more.
Stay tuned!
Can You Use a Fitbit Device Without a Smartphone?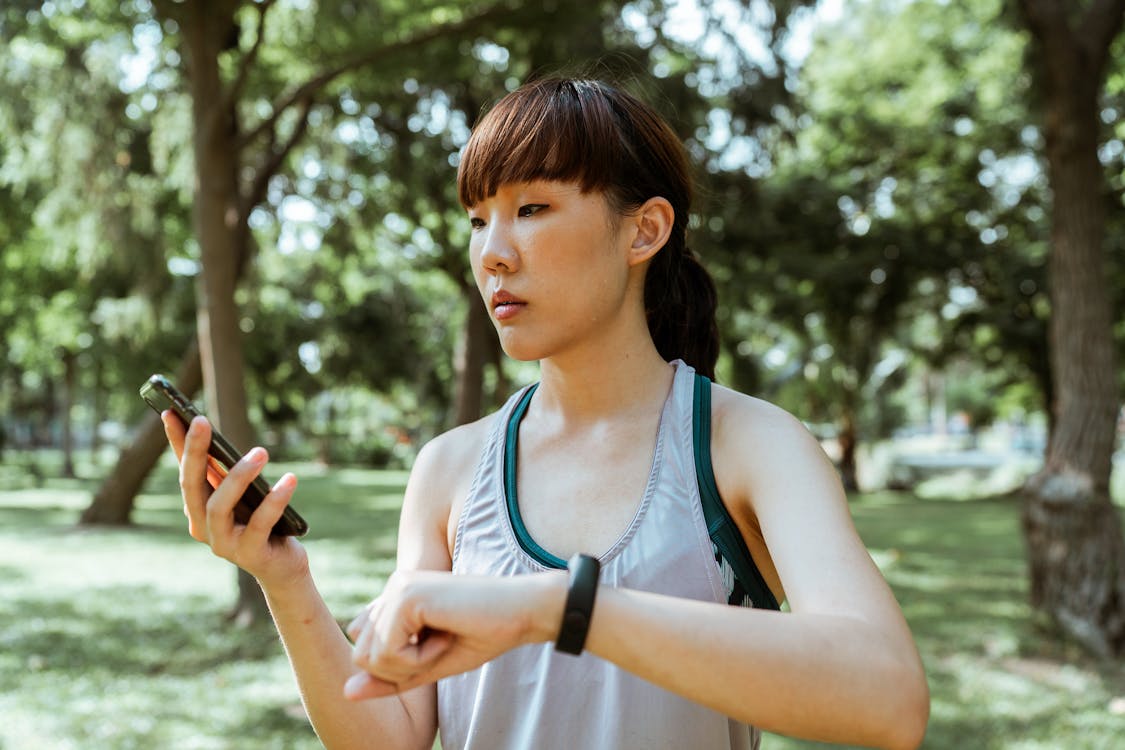 You can use your Fitbit device without a smartphone by connecting it to any computer or laptop via a Fitbit dongle. You'll need to download the official Fitbit app on your desktop to complete your fitness tracker setup.
Some Fitbit devices can be connected to a laptop or PC with a USB-style plugin. But most of them require a Fitbit dongle. Here's a link to buy it:
Fitbit FB152OD Wireless Sync Dongle
Keep this device plugged into the USB port on your computer, so you can sync your tracker to your Fitbit dashboard
Compatible with all fitbit activity trackers except for Fitbit Ultra
Ideal for second laptop or computer
Plugs into USB port
Last update on 2023-12-08 / Affiliate links / Images from Amazon Product Advertising API
However, I would strongly recommend using a smartphone.
It's something that I carry everywhere so I just skip the hassle of specifically opening another device, say my computer or tablet just to access the Fitbit app when I have no other use for it at that moment.
A smartphone is something that I'm constantly using so I won't miss any notifications from my Fitbit and can keep a very regular track of my activities.
It's better that I get to evaluate my progress more thoroughly through the Fitbit app on my smartphone sitting anywhere at any time.
If you don't like your fitness trackers to connect with smartphones, here's a list of the Best Fitness Trackers Without a Smartphone
With my phone being in such proximity the auto-sync will reduce the risk of deleting my activity reports.
All of my progress reports are just a single touch away from helping me monitor and rule out any abnormalities in my oxygen saturation, heart rate or rhythm, and sleep patterns.
This in turn gives me a more solid basis for doctor consultations to rule out serious life-threatening problems.
With my phone in sync with my Fitbit and notifications enabled, I am less worried about missing important texts or calls during my workouts, thereby making my workouts stress-free.
Why Does Fitbit Work Better With Smartphones?
Well for starters almost everyone carries a smartphone these days so it's simply more practical to set up Fitbit on it.
On the other hand, as opposed to a smartphone, tablets, and computers are relatively bulkier and can't be carried around everywhere that easily. Smartphones also provide quicker access.
Once the Fitbit application is installed, and account setup is done, the app can also be used without adding a tracking device utilizing their feature called 'Mobile Track.'
This helps to keep track of steps, calories burned and distance moved, all while you carry the phone in hand, in a pocket, or in a bag.
This feature proved particularly nifty when I had not gotten a Fitbit yet and was trying to acquaint myself with the concept.
It also came in handy when for some reason my Fitbit tracking device stopped working.
Even though some models of Fitbit do provide basic stats on the gadget for a quick look, it's imperative to connect it to a device for a detailed report on all the data collected.
Fitbit Features That Require A Smartphone
Here are some of the features that you'll be missing out without using a smartphone with Fitbit devices:
Detailed fitness analysis of the data on the smartphone that will be shareable with your trainer.
Instant notifications from smartphone such as calls, messages, whatsapp texts, etc.
Closer proximity than computers and tablets to sync data automatically.
Smartphones keep the data safe permanently.
More accurate GPS tracking with smartphone.
With my smartphone as the parent device, the Fitbit does get synchronized automatically when it's nearby. This removes the hassle of actively syncing the data as it just occurs in the background.
Why Does the Fitbit Require Another Device?
Fitbit requires a parent device to sync the data with Fitbit servers. Fitbit fitness tracker uses Bluetooth to establish a connection with the Fitbit app (a free software) on smartphones in order to store data permanently.
Even though Fitbit provides the advantage of keeping my data private, I still need to sync my gadget to a device to store the data. This is because it does not even get stored permanently to the gadget itself or the Fitbit servers.
I can go about using Fitbit for 2 to 7 days without syncing it depending on what model I'm using. After 7 days it can store the data up to a summarized level for 30 days.
It is better to sync the Fitbit if not daily then at the very least on alternative days or a weekly basis. This depends on the storage capacity the model offers otherwise the data gets deleted permanently and users lose records of their activities.
Some Fitbit models do not come with screens that tend to display the data accurately or in much detail. Thus it is imperative to view the detailed progress report on a synced device to keep better track of the activity.
With the advancements in software, records such as cardiac rhythms, sleep stages, and patterns can be useful tools on the Fitbit to share with doctors to keep track of any health issues.
So in my opinion it is better to use all these features to their complete advantage if you're investing in a Fitbit. All it takes is a hassle-free sync to a nearby device that you use in your daily routine such as a smartphone.
Is Fitbit a Standalone Device?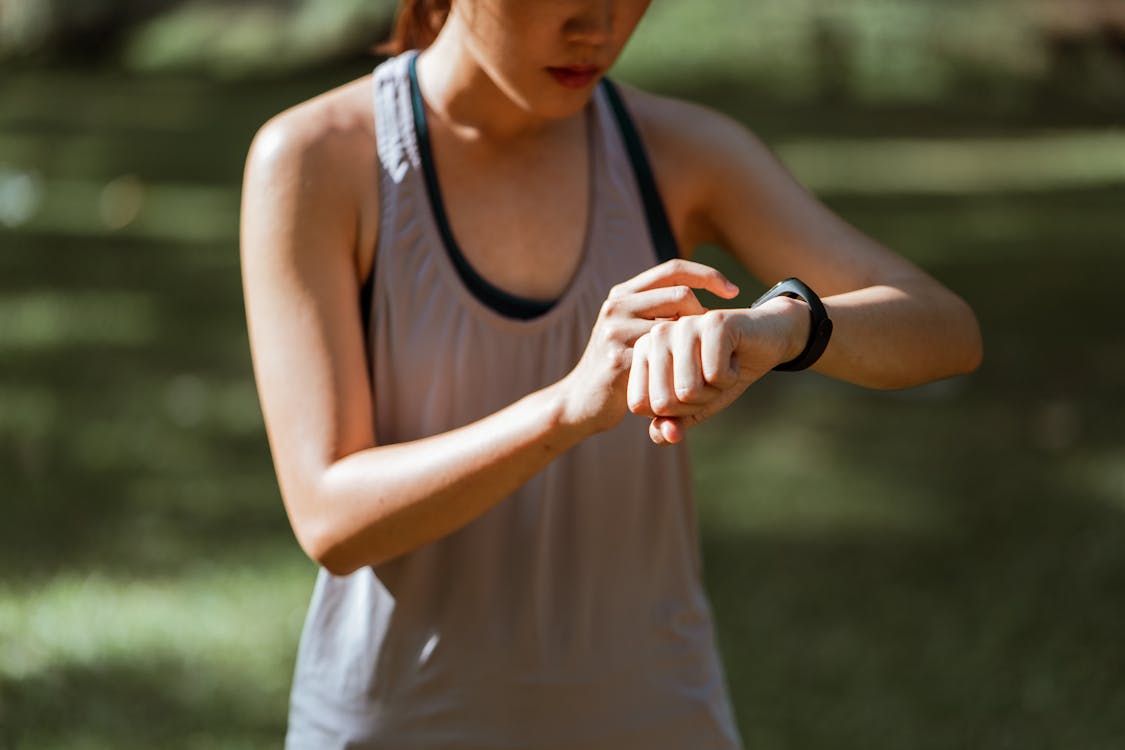 Fitbit is not a standalone device as it requires a smartphone or a laptop to connect to its servers. Currently, Fitbit does not offer any smartwatches with sim card slots nor they are developing any.
I'm pretty sure it must be heart-breaking news to most Fitbit fans.
But it does not make Fitbit less desirable among the fitness community.
Can You Use Fitbit Without an Account?
You can't use Fitbit without an account. It is mandatory to set up a Fitbit account on a smartphone or a laptop before you could use any of the Fitbit tracking features. Fitbit accounts are free and do not require any paid subscriptions.
To start using the Fitbit I first had to make a Fitbit account. With my account up, the next thing I had to do was set up and pair my Fitbit tracker device with my smartphone or any other compatible device.
The initial setup does require an internet connection but once the setup is complete the Fitbit gadget itself does not require an internet connection to operate.
You can create a Fitbit account by signing up here.
Requirements Of a Smartphone To Use With Fitbit
The Fitbit application has proved to be compatible with the majority of the commonly used smartphones and tablets whether it's Samsung, Apple, OnePlus, Google Pixel, LG, Nokia, Sony, Xiaomi, Lenovo, Alcatel, etc. The basic requirement is that it runs on either of these two operating systems:
Apple iOS 13.4 or higher
Android 10 or higher
However, some devices despite meeting the requirements mentioned above still do present with compatibility problems which include:
Huawei P8 Lite
Huawei P9 Lite
Xiaomi Mi 6
Huawei P20 lite
Tips To Overcome Common Issues Faced On Android Phones
Certain tips come in handy to provide hassle-free use of an Android smartphone with the Fitbit. Here are a few of them:
Firstly, the android smartphone needs to be updated to the latest OS version. (On previous OS versions, the app would still run but can not be reinstalled if it gets deleted).
Disable battery limitations.
Disable background restrictions.
Enable location services allowing the Fitbit app to track your location.
Use a Fitbit widget to monitor your activity goals and feeding your daily acitivities.
To avoid experiencing late or skipped notifications, failure of the device to sync automatically weak GPS connection, and failure of the Fitbit device to run or complete updates, it's important to keep the Fitbit app running in the background.
Will My Fitbit Work With Any Other Fitness Apps On My Smartphone?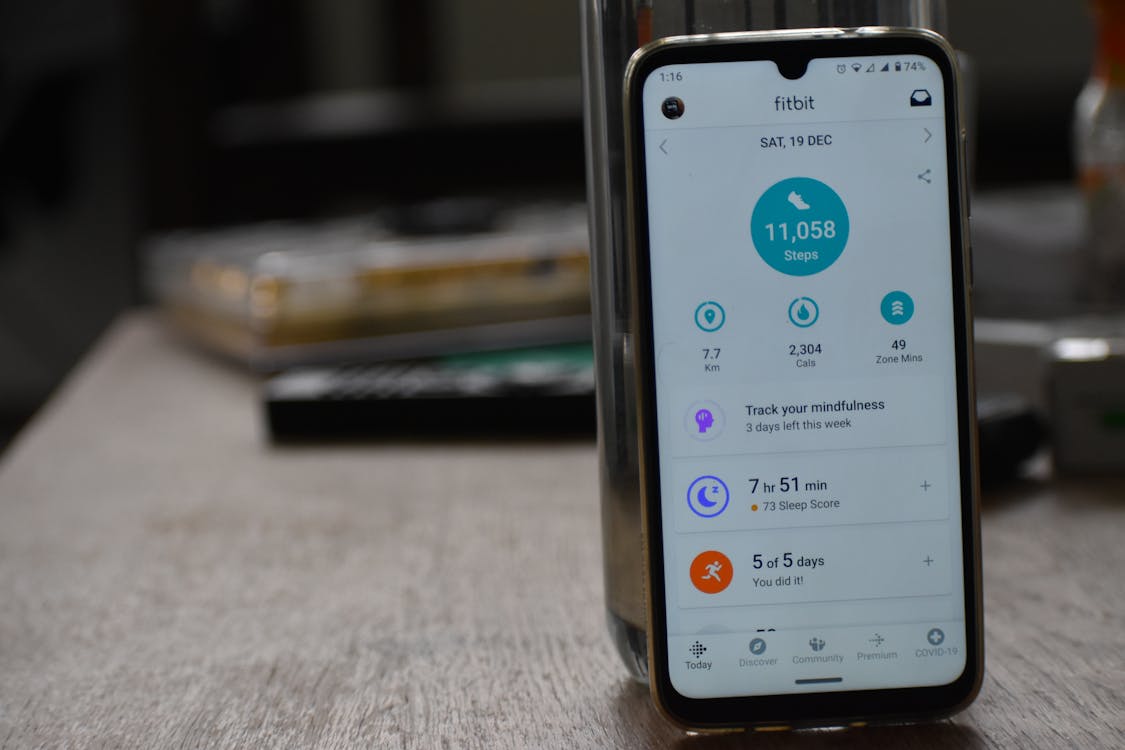 Here are some apps that work perfectly with Fitbit devices:
Strava
MyFitnessPal
Weight Watchers
Amazon Alexa
FitStar
FitStar Yoga
Lumosity
MyNetDiary Calorie Counter
Under Armour Record
Even though the Fitbit app itself can keep track of a lot of exercises, there is no harm in taking your fitness game up a notch and using the data already saved from any of my favorite fitness apps which are also compatible with Fitbit.
Are There Alternatives To Using a Smartphone With My Fitbit?
Yes, instead of using a smartphone I can sync my Fitbit with a tablet or a computer. However, these devices need to be compatible with Fitbit software.
Using Computers/Laptops as Parent Devices For Fitbit
With computers and laptops, it must be kept in mind that some sort of a USB plug-in connector or some wireless connection will be needed for syncing the Fitbit.
If I have decided to use a computer for the initial setup, an in-built Bluetooth connection is required. If my computer does not have one I could always go for a Bluetooth adapter.
The best-recommended adapter is the Wireless Sync Dongle.
Other than that I need to ensure that my Fitbit device is supported on my Windows version. All of the devices are supported on Windows 10, with relatively fewer ones on Windows 8 and Vista 7/8/8.1.
Only the oldest Fitbit devices, most of which are discontinued now, are supported on Windows XP.
Some users, when using a smartphone as the parent device, could face the issue of storage being used up for the Fitbit data because it has limited storage compared to computers.
Using Tablets as Parent Devices For Fitbit
Just like the requirements mentioned for the smartphones, all tablets with Apple iOS 12.2 or higher, Android OS 7.0 or higher, and Windows 10 version 1607.0 or higher operating systems would be compatible with Fitbit.
The setup would be the same as that on smartphones. The most commonly used tablets all support the Fitbit app such as:
Samsung Galaxy Tab
Apple Ipad
Sony Xperia Tablet
Amazon Fire Tablet
However, carrying a tablet around seems much of a hassle and is not the most efficient way of keeping daily track of my activities.
It does provide a great medium for storage, analysis, and comparison of my activity data over time.
Does Fitbit Track Steps Without Phone?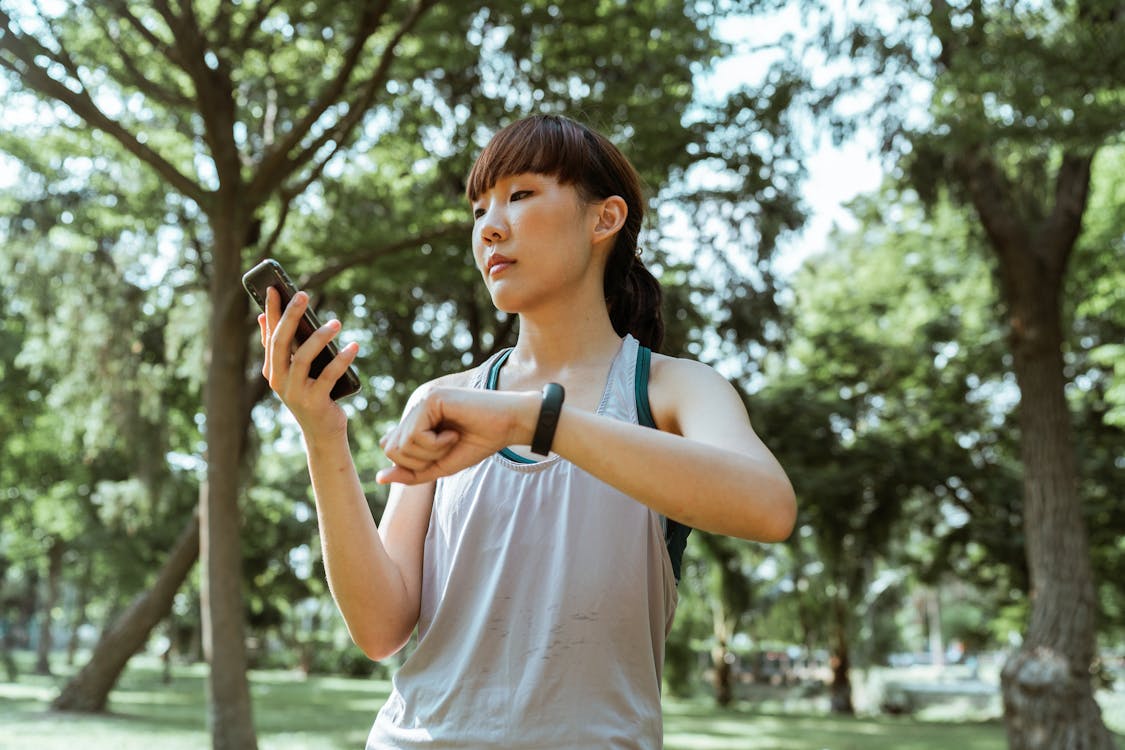 Fitbit can track your number of steps without a smartphone. You don't need to actively connect your Fitbit device to a smartphone in order to keep track of your steps. However, it's advisable to sync your device with the Fitbit app at least once in 30 days to keep the data saved permanently.
Although it's recommended to keep your smartphone with you (to be able to access other useful Fitbit features), you don't necessarily need a smartphone to track steps while running.
Fitbit will do the job for you alone.
Do All The Fitbits Depend On Smartphones To Work Efficiently?
Even with the most latest and technologically advanced models of the Fitbit I still require a smartphone to set it up. However, the overall efficiency of the device is relatively unaffected by the use and proximity of a smartphone.
Similarly, it can also be set up on Mac or Windows 10 with a wireless Bluetooth connection or a USB dongle.
The latest Fitbit features were introduced in the Fitbit Charge 4 and are continued till Fitbit Versa 3.
Fitbit has a special 'Versa' series that does not require smartphones but does need a parent device such as a laptop or PC to work.
Fitbit Versa 2 Health and Fitness Smartwatch with Heart Rate, Music, Alexa Built-In, Sleep and Swim...
Use amazon Alexa built in to get quick news and information, check the weather, set timers and alarms, control your smart home devices and more all through the sound of your voice (third party app may be required; amazon Alexa not available in all countries)
Based on your heart rate, time asleep and restlessness, sleep score helps you better understand your sleep quality each night. Also track your time in light, deep and REM sleep stages and get personal insights
Get a 90-day free trial of the Fitbit Premium to help you stay active, sleep well and manage stress. Unlock it all in the Fitbit app. (The valid payment method required. Cancel before free trial ends to avoid subscription fees. Offer valid for new Premium users only)
With a larger display and an always on option, your information?s always a quick glance away (always on display requires more frequent charging)
Last update on 2023-12-07 / Affiliate links / Images from Amazon Product Advertising API
The latest one comes with a more in-built memory that can store activity details for up to 7 days without automatically synchronizing with the phone and hogging up extra storage.
It also comes with an in-built GPS which is very accurate and I can easily keep tabs on my smartphone activity without having to carry it with me.
Other additional features include a waterproof body up to 50 meters in depth. This allows me to keep track of my swimming. It is also equipped to sense blood oxygen levels and provide a thorough analysis of sleeping patterns.
It can recognize up to 20 different types of workouts and also records the workouts in repetitions and intervals. The battery life is also much longer-lasting up to 7 days depending on how regularly you use it.
However, most of these features in the latest Fitbit tracker devices require a subscription to Fitbit Premium.
Conclusion
In conclusion, I believe that any of the above-mentioned devices can set up and sync my Fitbit.
Computers or tablets would do the job but smartphones will not only do the job better but they come with more accessible and practical benefits that improve an individual's overall efficiency which is also the purpose of Fitbit.